About Arthur Avenue Restaurant
In 1924, my great-grandfather, Eugenio Napolitano came from Italy and opened a clam bar on 188th Street. A few years later, in 1927, he bought a piece of property at 2407 Arthur Avenue, off of 187th Street in the Bronx, and turned it into a Restaurant and Pizzeria.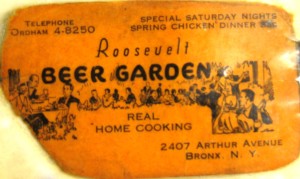 He and his wife Rosa worked the place together which they named "The Roosevelt" until they gave it to their son, Tony (my grandfather). When Tony married, he and his wife Ann decided to change the name to "Ann & Tony's."
They, along with their 9 year old son Ralph, (my father), ran the business as if it were their home. When visitors came they were treated like family. The food was delicious and if they wanted something that was not on the menu, if we had the ingredients, they could get whatever their hearts desired.

After my grandparent's death, my father Ralph, alongside my mother Vera, took the place over. Out of respect for my father's parents, they kept the "Ann & Tony's" name. In fact, my mother and father still answer to the name of Ann and Tony.

My name is Anthony, named after my grandfather, but people call me "Tony." I have worked with my parents since I was 11 years old, first as a busboy, then as a waiter, and now as a chef. My younger brother Ralph Jr. helps me out as much as he can.

He has worked here since the age of 14. He is currently a Chiropractor, and he is the first member of our family to break away from the restaurant business, but he will always be here when we need him. (right Ralph?!).

We still up hold the same traditions as our great grandparents did from way back in 1927. We treat every one of our customers like they are a member of our family. We have been in the same location for more then three quarters of a century.

We have seen many changes: two World Wars, the fall of the Berlin Wall, the end of the Cold War, and all of the Yankees World Championships.

Yet, our family still remains the same, serving you as if you were part of the family. You, our customers, are the reason why we have been here for nearly 80 years, and we salute you.

I often wonder what my great grandfather would say if he were here today. I hope that he would be proud of what his family has accomplished.
Thank you,
Chef Anthony Napolitano
Ralph Napolitano
"The Arthur Avenue Tradition Since 1927"
2407 Arthur Ave Bronx, NY 10458
Want To Book Your Next Party?
Need Catering For Your Event?
Have A Question For Us?
Copyright © 1927 - 2015  Ann & Tony's - An Original Arthur Avenue Restaurant
2407 Arthur Avenue, Bronx, NY, 10458